Kenya
Some of my photographs (including the cover photo from Kenya) have been published by the Brooke in their recent annual review:
Is there somewhere you would rather be? The inaugural BLINDSIDE Festival themed 'Everywhere But Here' is a multi-platform event where artists and the audience can connect, discuss, and imagine alternate destinations together.
Return to Sender - An exhibition of postables will include a small collection of seven 5"x7"photographic prints by Anna Fawcus, documenting scenes from Africa, India, and Latin America.
Artists from across the world, post their creative works based on notions of travel and destination. This eclectic group of works documents the artists' or the art work's journey through time and place. BLINDSIDE's postal route will be lined with biro scribbles, collaged topographies, painted meanderings, strange imaginings and photographs from afar.
Opening Thursday 9 August, 8.00-9.00pm. This exhibition runs from 9 to 11 August 2012. Exhibition hours are 12-6pm.
BLINDSIDE GALLERY
Level 7, Room 14, Nicholas Building 37 Swanston St Melbourne 3000
http://www.blindside.org.au/2012/everywhere-but-here.shtml
These are the selected photographs of mine to be included in this exhibition:
  © Anna Fawcus Seaweed Farmer in Zanzibar  
  © Anna Fawcus Boy with gun in Afar region of Ethiopia
© Anna Fawcus     Rice Farmers in West Bengal, India
© Anna Fawcus   Quinoa Farmer in Puno, Peru
  © Anna Fawcus Donkey overlooking the Rift Valley in Kenya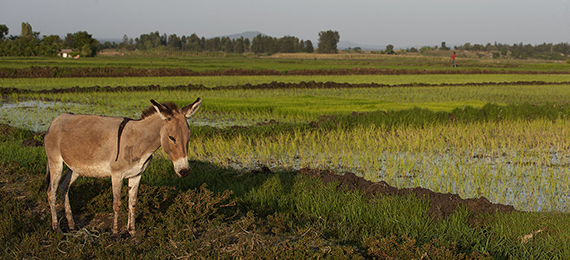 I have just returned from an assignment in Kenya, with the Brooke, who are an inspirational UK organization whose focus is working animals, in particular horses and donkeys. I always enjoy working with the Brooke, due to the nature of their work combined with the amazing team who work with them around the world. Over the 10 day assignment with KENDAT (The Brooke's partner team in Kenya), we travelled to regions of Kenya in the south, from Mwea region, to Nairobi, Lari and Limuru Region and further afield. The photographic landscapes were diverse, as were the case studies with mostly donkeys. We documented educational programs that the Brooke have facilitated in schools with the motto of: "Heshimu Punda" (Kiswahili for Respect the Donkey). Children began to understand at a young age that their working animals at home required care and basic necessities, such as shelter, food and love. Most of the work I photographed with the Brooke was capturing the results of stories, where the Brooke and KENDAT have made a really positive impact on various communities, by way of education, local training and support to facilitate self sustaining programs. They are an amazing organization. If you like the photos here, check out their website to see more of the photos that I have taken while working with them.
© Anna Fawcus / The Brooke Kenya 2012  
© Anna Fawcus / The Brooke Kenya 2012
© Anna Fawcus / The Brooke Kenya 2012
© Anna Fawcus / The Brooke Kenya 2012
© Anna Fawcus / The Brooke Kenya 2012
© Anna Fawcus / The Brooke The rare Zedonk; a cross between a Zebra and a donkey, Kenya 2012